Using Alternatives to Overcome an Abrupt End to Your Job Featuring Dennis Boyle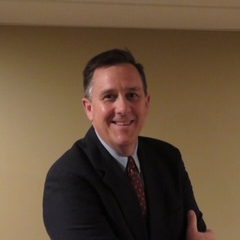 Dennis Boyle has over 25 years of experience with large corporations such as E.I. DuPont, Dade Behring and Siemens AG as well as startup companies such as Exalenz Bioscience and MedTest Dx.
We discuss:
A daily habit to help you prepare for unexpected circumstances [2:12]
The responsibility of delivering bad news that affects thousands of people [5:31]
The opportunities that come with heartache [7:32]
The ability to give yourself choices [10:12]
How to make better decisions when feeling distressed [12:52]
How to thrive as an outside business consultant when you're not Apple [15:17]
Helping companies grow revenue through outsourcing sales experts [18:41]
Dennis Boyle's experience includes both sales and marketing and he has held multiple Senior Executive roles in Business Development, Corporate Accounts, Strategic Management, Corporate/Commercial Training and Development, Private Equity, and Operations. In his last role, Dennis served as President of Spectra 254.
In early 2017, he purchased a licensing agreement from Sales Xceleration. This agreement provides him with outsourced Vice President of Sales and CCO tools and programs for small to medium sized firms to outsource their sales and marketing leadership.
Dennis earned his BA in Economics from Middlebury College. He also holds a Master's in Business Administration and a Master's in Business Education from Southern New Hampshire University. He also received graduate certificates in Negotiation and Public Speaking from the Center for Management Research in Waltham, MA and a training certificate from the Emily Post Business Institute on Business Ethics and Etiquette.
Dennis Boyle is an adjunct professor, and teaches business and professional services courses at the University of New Hampshire in their Business in Practice (BiP) program.
Learn more about Dennis at LinkedIn.