STP037: Getting Out of the Crisis with Iman Bugaighis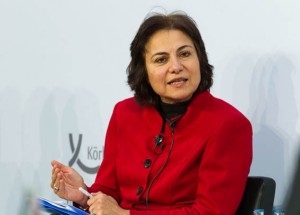 Dealing with risk is difficult. In some cases, the fear of risk keeps businesspeople from moving forward with potentially career defining initiatives. As official spokesperson for the Libyan revolution to the West, Dr. Iman Bugaighis knows about risk better than most. In standing up for what she believes, she regularly places in the balance everything that is dear to her.
In this episode, this courageous woman talks about what it takes to be bold and how any of us can rise to the occasion.
It's rare that an interview touches me on such a deep level. I'm truly interested to hear your thoughts once you've listened.
Topics include…
Making sense of chaos
Where to turn when things are uncertain
How having a single mission can help overcome difference
How teams reinforce courage
What happens once you've achieved your "big goal."
Dr. Iman Bugaighis is a prominent leader of the Libyan Revolution, a Professor at University of Bengazhi, and a fierce advocate for universal human rights.
Facebook
Twitter
LinkedIn
0Shares