STP068: "You are a brand" vs. "A vast myth": Dave Zweig and Gary Vaynerchuk Face Off on Personal Branding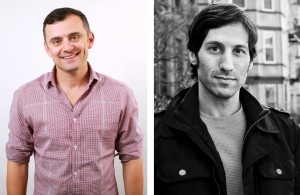 This episode features a Face-Off on the topic of personal branding between experts Gary Vaynerchuk and David Zweig. Zweig's recent book Invisibles criticizes what he considers the 21st-century problem of personal branding and image overtaking people's actual work. In contrast, Vaynerchuk argues in his book Crush It! that "Everyone needs to start thinking of themselves as a brand. You are a brand." In their discussion here, Zweig and Vaynerchuk find themselves agreeing on most points—and the result is a rigorous discussion on the subtleties of deciding if, why, and how people should brand themselves.
They also discuss:
The differences between "generating noise" about yourself and being effective as a self-promoter.
When it's "worth" the money, time, or effort to engage in personal branding—and who would find it worthwhile.
Why "For most people, it's a waste of time—unless they enjoy it. They're far better off perfecting their craft." (Zweig)
Why brand-building requires a sustained effort, and why so many people quit too soon.
Gary Vaynerchuk is a storytelling entrepreneur, video blogger, self-trained social media expert, and a best-selling author. Vaynerhuk launched Winelibrary.com in 1997 and helped grow his family business from $3 million to $45 million by 2005. He and his brother AJ are founders of VaynerMedia, an agency that helps companies including GE, PepsiCo, Hasbro and the New York Jets build their digital-brands. He is currently the General Partner of the newly-formed venture fund VaynerRSE.
David Zweig is a writer, lecturer and musician based in Brooklyn, New York. Invisibles (Penguin, 2014), his first nonfiction book, is an expansion of his Atlantic article "What Do Fact-Checkers and Anesthesiologists Have in Common?" As a singer, guitar player, and producer, Zweig has released two albums, All Now With Wings and Keep Going; his debut novel Swimming Inside The Sun was released in 2009. As a freelance journalist he has written for The Atlantic, The New York Times, and The Wall Street Journal. He is currently putting together a new book on how Western culture at large, especially online culture, affects individual self-perception.
Learn more about Gary Vaynerchuk on Twitter (@garyvee), and visit Dave Zweig's website at DavidZweig.com.
Facebook
Twitter
LinkedIn
0Shares