Moment or Movement Featuring Donna Fullerton and Jane Hyun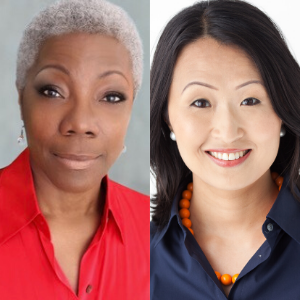 Donna Fullerton has decades of experience in the worlds of advertising and research, where she developed a toolkit of skills (including innovative/traditional and communications effectiveness techniques, Creative Problem-Solving, Neurolinguistic Programming and Mindset Coaching).
Jane Hyun advises leaders and organizations on leveraging diversity and culture to drive high performance and innovation.
We discuss:
A key variable on how people are seen [3:00]
The beauty of translating things in context [5:33]
Vulnerable statements as a place of genuineness [8:34]
A new element that needs to be part of the fabric of every company [11:00]
Who's missing from the table [15:34]
The opportunity of small businesses to become personal [17:22]
Why small businesses are more capable of making the necessary shift happen [20:46]
An influencer's role in making realistic changes in the areas of diversity and inclusion [23:18]
Why we need to accept we are actually biased [26:09]
Celebrating all of us as part of the society we've created [28:09]
The barriers that prevent us from connecting with each other [29:47]
Donna applies her vast expertise to elicit underlying consumer motivation/insights and to help small business owners re-imagine their businesses by identifying promising opportunities and designing a strategic action plan to support business development. Donna has Advanced Degrees from Pace University, Executive Certifications in Strategic Marketing from University of Chicago, co-authored, "The Freedom Zone: Your Gateway to Love, Liberty and Happiness" and created "Food For The Soul," an online source of daily inspiration.
Learn more about Donna at http://dmfcominc.com, LinkedIn, http://foodforthesoul.us.
Drawing on 25 years of experience navigating change in high-stakes business environments, Jane's clients have included over 200 corporations, conferences and universities, including PepsiCo, eBay, and ESPN. Her insights appear in CNN, Harvard Business Review, CNBC, The Wall Street Journal, and NPR. She is a top 50 Marshall Goldsmith Leading Global Coach. Jane's sessions and keynotes are known for creating "unexpected light bulb moments" that help us work better together. Jane is author of the national bestseller, Breaking the Bamboo Ceiling, and co-author of FLEX/The New Playbook for Managing Across Differences.
Learn more about Jane at http://www.hyunassociates.com/, LinkedIn and Twitter.