STP051: Personal Branding: Overhyped, or Underrated? Dorie Clark and Eric Ruben Face Off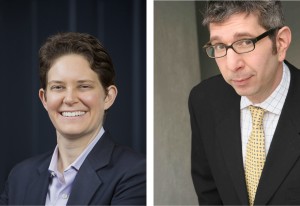 What can we learn when politics, academia, business, showbiz, and the literary worlds collide? Between the two of them, Dorie Clark and Eric Ruben have a tremendous breadth of experience, and both experts take different approaches to the same topic: personal brand and reputation management.
Clark is the author of Reinventing You: Define Your Brand, Imagine Your Future (2013). A former presidential campaign spokeswoman, she is a frequent contributor to the Harvard Business Review, Forbes, and Entrepreneur, and is a speaker for clients including Google, Microsoft, Yale University, Fidelity, and the World Bank. A graduate of New York's Cardozo School of Law, Ruben is a former veteran entertainment professional, and has performed in film, TV, commercials and in off-Broadway productions. He has traveled across the country performing stand-up. He also has over twenty-five years' experience as a counselor, litigator, literary agent, and talent manager.
In this episode, Clark and Ruben discuss their different approaches and attitudes toward personal branding, including:
Personal branding: overhyped, or underrated?
The value of doing good work—and the value of publicizing it
Why social media can be a double-edged sword for an online reputation
How to distinguish yourself in a crowded marketplace
How developing a personal brand can be "fundamental" to your ability to earn a living
Dorie Clark is an Adjunct Professor of Business Administration at Duke University's Fuqua School of Business and a Visiting Professor for IE Business School in Madrid. She has guest lectured at Harvard Business School, the Harvard Kennedy School, Stanford University's Graduate School of Business, the Wharton School, the MIT Sloan School of Management, and more. She is recognized as a "branding expert" by the Associated Press and Fortune, is a frequent guest on MSNBC, and appears in worldwide media including NPR, the Wall Street Journal, and the BBC. Her book Stand Out: How to Find Your Breakthrough Idea and Build a Following Around It comes out this April. Learn more at dorieclark.com or follow her on Twitter @dorieclark.
Working in partnership, Eric Ruben assists his clients in determining how best to achieve their personal and professional goals. He can be reached by Twitter (@ericrubenlawyer) or through his website, RubenLaw.org.
Facebook
Twitter
LinkedIn
0Shares