STP053: Search Engine Marketing and Client Expectations: Wil Reynolds and Jeremy Pound Face Off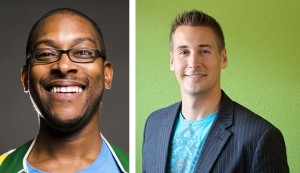 Jeremy Pound is the founder of JuicyResults.com, a search engine optimization firm with a flagship service of a guaranteed SEO. Wil Reynolds is the founder of Seer Interactive, a digital marketing agency. Both are in the search engine industry—but while Jeremy's company guarantees its search results, Wil has said that a guarantee it is not possible in this swiftly-changing industry. Can these two entrepreneurs find common ground?
Certainly they can! Both agreed that their goal is to help search engine users find content that is useful and relevant to them, and to help the user and their client connect when they should. In this rigorous discussion, they also address:
The difficulty of measuring accomplishments (or even accountability) in a constantly-changing and unpredictable business environment
Choosing to pursue revenue vs. rankings
The importance of performing due diligence before working with a client, and treating a client like a potential business partner
How sharing risk with a client should affect business decisions
How to help a client choose between branding vs. direct marketing approaches
The keys to long-term business success in a quickly-changing industry
Wil Reynolds founded Seer Interactive in his apartment in 2002; the company now has a team of over 100 people and offices in Philadelphia and San Francisco. Reynolds is its current Director of Strategy. Follow him at @wilreynolds.
Jeremy Pound is the founder of JuicyResults.com, and writes and speaks regularly on how organizations can best take advantage of the web to grow their customer base. His book The Bootstrapper's Guide to SEO is forthcoming. Follow him at @jeremypound.
Facebook
Twitter
LinkedIn
0Shares