Why Values Matter So Much With Dan Kuschell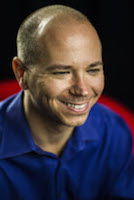 After undergoing emergency surgery in 2007, Dan Kuschell's outlook on life, love, and business did a full 180. In the process of re-crafting his life, he came to realize that all the things that mattered to him most have one thing in common…they resonated deeply with his personal values. Now this profound new perspective resonates in everything he does, including his current leadership role with The Genius Network.
According to Dan, whether you want to cultivate a community, take on a new business venture, or just reconnect with family, you need to know exactly what you want, and let your values evolve from there.
Topics include:
Why there's a huge difference between what's important and what's most important (and how to figure it out).
Why most people take the wrong approach when joining a peer group.
The three values every community needs.
Dan Kuschell is a husband, dad, serial entrepreneur and angel investor. He's built 11 companies – his first in 1992 starting in direct mail helping health clubs build and grow their businesses. After selling 2 of his companies in 2009 following a health scare, Dan now spends his time working with fun projects, including helping Joe Polish and Genius Network grow.
Learn more about Dan at geniusnetworkevents.com, growthtofreedom.com, LinkedIn, and Twitter.
Facebook
Twitter
LinkedIn
0Shares