How to Succeed in Business: Tips From a Superstar Executive Coach and Leadership Strategist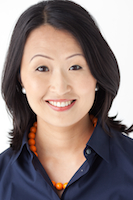 I first mane Jane Hyun while planning a series of events called Cross-Generational Conversation Day, founded by Phyllis Weiss Haserot. Jane is an internationally renowned consultant to Fortune 500 companies, but also a small business owner herself.
Her experiences are broad, which means she can speak intelligently about a number of challenges business leaders face. After more than a decade in corporate America, Jane brings a flair for consulting to her own company, Hyun & Associates.
I'm sure you'll enjoy what she has to say as much as I do.
David: What does your typical day look like?
Jane: There is no "typical day" in my life as a leadership consultant!
If I'm at a client site, I might be presenting a talk on one of my leadership books, or facilitating a workshop or team session for a business group. When I'm not on the road, you can find me on conference calls, editing an article, or working quietly on putting the finishing touches on a completed analysis of a project. I typically thrive on engaging in the variety of tasks each day, but one can never fully control how much or how little work you do, so there are times when there are simply too many tasks to be accomplished!
David: For many entrepreneurs, life and work often overlap. What specific areas of personal life have you seen significantly affect business success…and vice versa?
Jane: As with many busy entrepreneurs, I'm in a stage of my life where I am working more than a 40-hour week job, maneuvering husband and kids, and keeping myself nourished (literally and figuratively). I try to remember to put my oxygen mask on first before taking care of others, but I find myself not always being consistent on that front.
Parenting is one of the best teachers. Through my kids, I have learned to be a little more patient, finding humor in the most mundane situations, and they've given me the amazing gift of perspective. They also remind me to practice the art of adaptability to the many temperaments/personalities I encounter in my work. Those traits have helped me get through hard times.
David: What traits do the most successful people share?
Jane: Well, it depends on how you define success. Success to me is being able to do the things that you want to do, while contributing to the greater good of society.  I admire people who are authentic in their leadership. When I can talk to someone and they are not afraid to just be who they are. They don't need to put on any "airs" and they are highly effective in their fields. Those are traits that are worth emulating. Too many people are out there trying to be someone else, or copying a role model. The hardest thing to do is to accept yourself and show up in a real way with your team members, clients, and partners. When you can bring all of yourself to your profession, that's when your career is going to accelerate.
David: What was the most important thing you did to grow your own career?
Jane: I spent 13 years in corporate America, and 10 years in the consulting world. One lesson I learned early in my career is to embrace my early experiences in corporate America and cultural background.
For many years I've had to figure out how to acculturate into American business culture, because I was raised in a culture and country very different from the Western cultural norms for the first 8 years of my life. When I was younger, because I was so busy trying to understand and navigate the American culture, I didn't know what being "authentic" really meant. Increasingly, I find that my value (to my clients, friends, peers, and family) comes from translating those experiences into the business world. Because I have experienced being on the outside of the culture looking in, I can bring insights that others might miss. I've learned strategies for doing business in ways that may bring a new perspective to the same product/service. I also have diverse "mini-networks" that provide me with counsel.
Jane Hyun is the Founder and President of Hyun & Associates. You can reach her company via email or by phone, at 212-946-4779. Visit the company's website here.