How to Succeed in Business: Tips From a Superstar Pastry Artist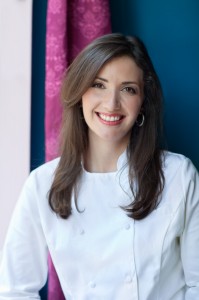 I first met Michelle Apiar at one of our TEND Success Series ™ Workshops. She runs Haute So Sweet, a cake decorating and baking business that she started a few years ago. Not only is she a successful entrepreneur, Michelle has faced tough obstacles en route to her success.
Her challenges will resonate with any small business leader, and it's my pleasure to bring her to you.
David: How did you arrive on your current path?
Michelle: I've always loved cooking and baking, but never thought about it as a career.  I graduated NYU with a degree in media and communications.  I started a career in public relations, and because of my interest in food, I went with a firm that specialized in restaurants.  After that I worked in Ad Sales at Gourmet Magazine.  After working with chefs and business owners that were able to make a career out of their passion, I was inspired to attend culinary school and give it my own shot.  I registered at The French Culinary Institute studying pastry arts and discovered a love for creating elaborately decorated cakes.  After graduating, I apprenticed with Colette Peters, an innovator in the cake design field.  I then moved on to open my own bakery, which was a failure.  I stepped away from the baking field for a few years and worked in retail sales management, but my passion for creating cakes called back to me.
In February of 2011, I left retail management and started Haute So Sweet, a specialty cake company, operating out of my East Village Apartment.  Three years later, we have a 715 sq ft space in Chelsea, and a kitchen staff of three bakers and decorators.
David: What do you do to help reduce stress for clients and people you work with?
Michelle: The majority of cakes that we make are for large events, which of course, have unmovable deadlines.  This creates a great deal of stress for both me and the staff, as you only get one shot at making that cake.  There are no "do-overs".  Preparation and thinking ahead is the most efficient way of managing stress.  We have a Plan A, B and C for each cake.  When speaking with clients that are nervous about their cake, I let my testimonials speak for themselves.  Our past clients are happy to write reviews online about their experience with Haute So Sweet.  I invite new clients to read them, which usually puts them at ease.
David: What do you do to reduce your own stress?
Michelle: I take a step back, breathe, and get everything out of my head.  I'll get my journal and dump all thoughts out in writing.  This leaves my mind clear to focus, be creative and get work done.  I also make sure that I put my health first.  Eight hours of sleep, healthy eating, and regular exercise – especially in times of stress –  works wonders.
David: For many entrepreneurs, life and work often overlap. What specific areas of personal life have you seen significantly affect business success…and vice versa?  
Michelle: When your business is as young as mine, you have to put your all into it.  Yes, that means putting family and friends aside much of the time.  That may be an unpopular view, but I find it to be the truth.  If you are truly passionate about what you've decided to do, you will find it easy to devote all your time to it.  That being said, it is important to maintain your friendships and relationships with family, but you have to schedule that time in.  And if your family and friends truly support you, they will understand that this is a temporary state that you just have to power through.  The support of my family and friends is a main driver for my business, and I show my gratitude to them every chance I get.
David: What was the most important thing you did to grow your own career?
Michelle: My overall attitude towards life and business is the most important aspect of growing my business.  I employ positive thinking by turning failures and mistakes into learning experiences, I look at "no's" as a stepping stone to the next "yes" and I help people as often as I can.  I never sweat the small stuff.  I'm also not afraid to ask for help from others with more experience and I'm open to hearing new ideas from clients, employees and other business owners.  You never know what may spark your inspiration!
Here's how to get in touch with Michelle directly…
Michelle Apiar
642 W. 28th St.
New York, NY 10001
212-695-1711
What do you think of what Michelle has to say? Let us know in the Comments Section below.