How to Succeed in Business: Tips From a Superstar Photographer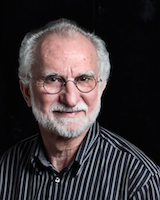 Ed Lefkowicz and I met through the business networking organization, BNI. As a professional photographer, Ed understands that being successful means being good at business and at his craft.
This balance isn't limited to creative types. Many business owners, in some form or another, struggle with running a business correctly and maintaining competency – not to mention having time for a personal life. Ed has a few tips up his sleeve, and I'm thrilled he's sharing them with us.
David: How did you arrive on your current path?
Ed: I've been making photographs seriously since I got out of high school. My father had done some photography when he was in the Army, and later developed his own film and printed his own photos in a home darkroom. The first time I saw a print come up in the developer I was gripped by the idea that I could actually perform this kind of magic, too.
I photographed through my college and graduate school years—music and musicians, political figures and movements, some personal commissions—and kept it up through most of my life, including over 25 years in the rare book business. I had always looked to photography as an expressive and creative outlet, and had kept up with the artistic side as well as with business conditions and trends.
So after I left the rare book business in 2003, I spent some time thinking about my next career move, and kept coming back to photography—I'd always done it, and it always engaged me. It helped tremendously to have had a good deal of encouragement from some well-established photographers and mentors as well as from my wife, Cynthia. She has a background in art history, worked for the National Endowment for the Arts, and recognized that I had both the abilities and the passion to become a successful photographer. In the end, it was a calling. I hate to use that term, but it really was—I just couldn't imagine doing anything else.
David: What does your typical day look like?
Ed: I'm not at all sure what a "typical" day is—they vary substantially. As a freelancer, I spend a lot of time marketing my services, mostly by targeting and pursuing clients I'd like to work for.
A shoot day is very different, and comes in different flavors: for some assignments, especially for corporate and editorial clients, it's just me and my subjects. For advertising clients, it's me and a crew I've organized to produce the images to fit the client's requirements. Apart from the actual photography, there's pre-lighting, fine tuning lighting on one or more sets, the actual photography, and, as my mother used to remind me, putting all my toys away.
I spend a good deal of time in pre-production, both in working out concepts for a shoot and in assembling and organizing a team of assistants, stylists, and others. Depending on the assignment, this can get complex in terms of personnel, sets, and equipment.
And then there's post-production—downloading, backing up, selecting, retouching and delivering images. Post-production time is invariably a multiple of the shoot time, by the way.
David: What do you do to help reduce stress for clients and people you work with?
Ed: My job is to produce the best images I can that will fit the client's needs, and if I or my crew is showing stress it will get in the way of the process and will affect the images. So I look on stressors as problems to be avoided, or at least solved as quickly as possible, and not as causes for panic. I choose my crews carefully, and have been fortunate to find people who are highly skilled, who are easy and fun to work with, who are proactive and anticipate potential problems, and who relate well to clients. I'm the guy who gets paid to visualize and produce the image, but a good deal of my results, and my clients' happiness, can be attributed to my crew.
David: What was the most important thing you did to grow your own career?
Ed: Moving to New York City from New England was probably the single most important thing, followed closely by joining a chapter of BNI which included a strong sphere of others involved in some way in marketing, web deign, and visual storytelling.
David: What are some of your own professional development challenges? How are you working on them?
Ed: My challenges are in two categories—continuing developing my photographic skills and developing my business. I'm in a very competitive market, and it's imperative that I do both.
To improve my skills, I attend professional photographic workshops and participate in webinars. Some of the workshops are not directly photographic, but are in related fields like drawing, storytelling, and filmmaking. My goal is not just to make photographs that are technically great—that's a given—but also to make photographs that tell my clients' stories in creative and effective ways.
To develop my business, again, I go to workshops and participate in webinars. I'm also a member of a brain trust in the New York chapter of ASMP, the American Society of Media Photographers, of which I'm a member. A group of us meets monthly to discuss business issues, offer our experiences, and suggest best practices in areas that range from copyright to client acquisition and retention to generating multiple income streams.
Here's how to get in touch with Ed directly: You can contact him by phone at 718.541.2887, via email at ed@lefkowicz.com or on his company's website.