How to Succeed in Business: Tips From a Superstar Planned Giving Advisor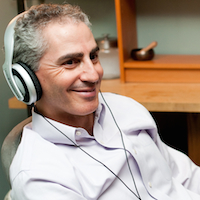 Tony Martignetti and I first met through a mutual colleague. Through his radio show, which he hosts in conjunction with his Planned Giving company, Tony publicizes valuable content that has routinely attracted me.
Tony's business is very focused, and it's a specificity that has allowed him to corner a market. I think it's a lesson for all small business owners: the narrower your approach, the wider your appeal will be.
I'm excited to be bringing him to you today.
How did you arrive on your current path?
Tony: I hated practicing law and re-engineered myself into a Planned Giving fundraiser. Having inaugurated two PG programs I recognized my talent and interest. Wanting to work outside the comfort zone of what I had done twice as an employee, I started my own biz.
What does your typical day look like?
Tony: No day is typical. I've got too much going on that I love doing. In a typical month, I'd be on-site with clients, in the radio studio, speaking, writing, on a plane and train, pre-interviewing guests, in the gym, working my shift at the Park Slope Food Coop, meeting over meals, and coordinating with all the truly outstanding people who help me with social media, web, design, client fulfillment, and travel.
What's your favorite productivity trick?
Tony: Naps.
What do you do to reduce stress?
Tony: Take time off.
What are some of your own personal development challenges? How are you working on them?
Tony: Spending more time with my parents. I'm conscious of it, and that's helping.
Tony Martignetti is the Founder of Martignetti Planned Giving Advisors, LLC. You can reach his company via phone, at 212-567-5680, or by Twitter or Facebook. Visit the company's website here.