How to Succeed in Business: Tips From a Superstar Small Business Attorney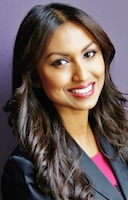 Shahrina Ankhi-Krol practices what she preaches as an attorney for small businesses: Not only does she run her business with a mix of legal and entrepreneurial expertise. She makes sure her clients do the same.
This balance is rare to find. And Shahrina does it as well as the best of them. I'm sure you'll find her advice incredibly valuable.
David: What are the most common issues you notice that keep entrepreneurs and small businesspeople from reaching their full potential?
Shahrina: The most common obstacle faced by entrepreneurs and small business owners is the "Do It Yourself" or "DIY" mindset. Generally speaking, money plays the biggest role in the decision-making process of entrepreneurs and small business owners. So, many try to save money in any way they can, even if that means cutting corners or by doing everything themselves.
Instead of hiring professionals, like lawyers, accountants, and marketing experts, owners of small businesses try to "learn" everything they can by piecing together various free resources they have available, such as the Internet, friends and family.
While they are saving money at the time, they will probably spend a lot more in the future than they would have had they fought the urge to be jacks-of-all-trades. In fact, most of my clients contact me when their attempts at solving legal problems on their own have gone wrong.
Because it costs significantly more in legal (or any other professional) fees to fix something than to do it right in the first place, it is strongly advisable that entrepreneurs and small business owners hire professionals from the beginning. That way, they can focus on reaching their full potential by being the masters of their respective trades.
David: If you could advise business owners to take one action to reduce the stress brought on by their work, what would it be?
Shahrina: Do not procrastinate. Do not procrastinate to complete your own tasks and do not procrastinate to seek the help that you require to complete your task. The sooner you can get something done, the better. And not to mention the good impression you will leave on others!
David: What can external resources bring to a business that internal employees can't…and vice versa?
Shahrina: They both provide a great flow of ideas, which may help your business prosper. When necessary, bringing in external resources, such as experts in particular fields, will alleviate pressure on your internal employees. As a result, your internal employees can focus on other tasks that are also required to make your business run smoothly. In other words, one cannot substitute for the other.
Paint an ideal picture of internal employees and outside experts working together to help a business attain maximum success.
Incorporating the strengths of internal employees with outside experts can produce great results for any type of business. For example, in a medical malpractice trial, a partner at a law firm may hire an expert, such as a doctor, who can explain the medical intricacies of the case to an associate, who can then combine the explanation from the doctor with his expertise in trial practice to craft a winning argument in court.
David: What was the most important thing you did to grow your own career?
Shahrina: I refused to take no for an answer and I refused let negative comments discourage me. While it is very easy to succumb to negative thoughts and be overwhelmed by the speed (or, at times, lack thereof) of progress, it is important to remember that your business will only be as strong as you. Therefore, it is important to keep a positive outlook, and to surround yourself with uplifting, inspirational people, no matter how difficult that may be.
Shahrina Ankhi-Krol is an Attorney at Law and the Founder and Owner of Ankhi-Krol Law. For more information, visit her company's website or shoot her an email. You can also Like her on Facebook or follow her on Twitter.
Like what you see? Click here for more updates and posts just like this one.