How to Succeed in Business: Tips From a Superstar Social Media Strategist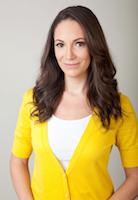 Stephanie Abrams and I both attend the same mastermind group. It was quickly apparent to me that social PR was Stephanie's forte; however, it was her sense of "getting" business ownership that really stood out to me.
She brings a commanding sense of planning, strategizing, and the social savvy to spend time with the right people. Basically, Stephanie walks the walk when it comes the world of social media, and I can't wait to let you see what she's got.
David: What are the most common issues you notice that keep entrepreneurs and small businesspeople from reaching their full potential?
Stephanie: There are numerous roadblocks entrepreneurs and small business owners face on the path to success.  I find one of the most common issues is not having a clear plan for how they intend to reach their goals.  It's takes more than a great idea, product, or service.  You need to develop a clear road map for how you intend to succeed.
When you start and run your own business, there will always be issues that arise that are impossible to predict and plan for.  However, you need to do everything within your power to try and see three steps ahead to be as best prepared as you can. You need to have a strategy that establishes desired benchmarks for your business and includes details on how you intend to reach them. Items to include are revenue and marketing goals, number of products you aim to sell or desired number of users you wish to acquire. Detailing your vision as to how you expect to achieve these targets will allow you to plan ahead.  It will give you an idea of the resources you will need to grow your business. Including a good accountant and business attorney in this process is critical. They will be able to illuminate challenges that may not be on your radar.
There is more to achieving success than simply selling a lot of your product and service.  Including ideas from these professionals, as well as other business owners and entrepreneurs whose success you hope to emulate, can help you create a comprehensive plan that can allow you to see items both big and small that have the potential to trip you up. The best part of having this plan is it can always be rewritten. It can pinpoint if and when you need to change direction and adjust your tactics by allowing you to see when are getting off track from your original goals. As your business transforms and your goals shift, so should your plan.
David: If you could advise business owners to take one action to improve profitability, what would it be?
Stephanie: Make sure you price your services properly.  It is tempting to discount such when you are first starting out. This is a challenge I experienced firsthand when starting Socialfly.  It is easy to get into the mentality of "I just want to get the business," especially when just beginning. The thinking is, if I do a great job they will come back and/or encourage others to do business with me.  While this can sometimes be true, you are really putting yourself at a disadvantage.  While you do need those first clients to gain some momentum and generate some word of mouth, you can set a dangerous precedent.  You have now set an expectation that customers can and will try to exploit.  Attempting to raise prices to a level that will sustain your business will become a major challenge. You are guaranteeing some level of dissatisfaction for your new and only clients.
The reality is that there will always be people who shop for the cheapest possible product or service they can find.  They will make their decision solely on who is cheapest regardless of the quality they may or may not receive. These are not the clients for you.  You don't want to kick business out the door; however, you do need to find customers who value your time and expertise while appreciating the quality you offer.  As an owner you always have the ability to discount your prices when you want or as needed. Starting at a price point too low eliminates your ability to do so efficiently.  Even worse, it can eliminate your ability to remain profitable. Don't sell yourself short.  Like I mentioned in my previous answer, working with a strong accountant can help you immensely.  Work with them to figure out what the right balance may be in terms of pricing and sustainability.
David: What can external resources bring to a business that internal employees can't…and vice versa?
Stephanie: External resources can be tremendously helpful to your business when just starting out.  There is a wide range of tools available to help you as you learn and try and grow.  Working with a business coach who has experience in successfully growing a small business is just one example.  You have a lot riding on your business and pride and ego can sometimes get in the way of smart decisionmaking.  While employees can sometimes help with this piece, having someone who can look at things objectively from the outside can pay huge dividends.  You need to listen to someone with a different perspective from your own, especially from someone who has "been there, done that."  Learn from their mistakes as well as their successes.
Choosing this partner wisely is crucial.  You need someone who can provide practical technical and logistical advice that can be measurable.  On the flip side, internal employees can also be a great resource in helping your business reach new heights.  Hiring wisely is crucial.  You must find talent that is as driven and ambitious as you are, and listen to what they have to say.  They may have some of the best ideas in terms of streamlining your processes and/or providing a better customer experience.  They are on the front lines and may see and hear things you cannot. They can get feedback and suggestions from your client base that may not otherwise reach you.  Empower them to feel their opinion matters and encourage them to act as an owner or partner.  This is especially important as they are not as invested in the business as you. This separation may allow them to look at things in a different way, one which can really help transform your operation.  In addition, allowing them to participate in the financial success of your business in terms of bonuses and additional compensation can be unbelievably powerful in this process as well.
David: What counterintuitive idea would most small business owners do well to adopt?
Stephanie: Befriend your competition, and believe it or not, promote and/or refer to them when appropriate.  Not every client or project will be the right fit for your business.  The same can be said for them.  We are friendly with other social media consulting agencies similar to our own who focus on different industries than we do.  We have not only been able to get great referrals that way, but have also learned from what they are doing, both right and wrong.  One of our best referral partners is a larger agency we met through networking.  We have a learned a lot from them as to how they were able to scale their business and take on bigger and better projects.  More importantly, they have referred a great deal of business as they meet with brands who don't have the budget to work with them. Competitors are necessarily your enemy, but you need allies.  Finding the right ones can be tremendously helpful to you. There is enough business to go around and allow many to achieve a high level of success.
David: What was the most important thing you did to grow your own career?
Stephanie: I know my business would not be in the position it is today without the networking I did, and continue to do.  You have to put yourself out there and ABN (Always Be Networking).  Your next deal can come from a conversation you start on the subway or in an airport.  Be outgoing and prepared to talk about your business at any time.  I have attended hundreds of professional networking and industry events over the past several years.  It has allowed me to develop tremendous strategic alliances and referral partners.  Separate from uncovering sales opportunities, it allows you to meet and connect with others who have been in your position before.  The education and guidance these individuals can provide is incredibly valuable to your growth.  You should always be selling yourself and your business.  I believe people, especially entrepreneurs and business owners, want to help one another.  It is different than the cutthroat, step-over-the-next-person-to-get-ahead mentality I experienced working for large corporations.
Befriending like-minded professionals is a powerful thing.  Going to these events provides a tremendous opportunity to meet these individuals and connect with them both personally and professionally.  You never know who the person you are speaking with knows.  Meeting the right person can change your business overnight.  But you have to be out there networking to increase the possibility of this happening.  Find these events, get out there, and connect. I will see you there!
Find out more about Stephanie Abrams and SocialFly at www.socialflyny.com or call her at 917-282-9052.
Or check her out on Bloomberg TV: http://bloom.bg/15mNMrp