How to Succeed in Business: Tips From a Superstar Business Coach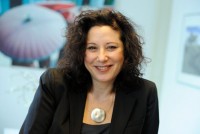 Christina Lattimer, whose interview we recently posted, created a wonderful online community of leadership experts. Lucky for me, I met Bonnie Williams in this virtual community.
Social skills are more important than ever in driving personal success, no matter what your professional role is. Bonnie understands how to take the technical or professional skill that is the backbone of any business' core offering and teach people how to show how their specialty will benefit the customer.
So without further ado, heeeere's Bonnie….
David: What do you do to help reduce stress for clients and people you work with?
Bonnie: I think that stress is very often a by-product of 'overwhelm', when it feels like too many things are happening simultaneously or there are conflicting interests and expectations at play. When this is the case, my tendency is first and foremost to listen. And to not judge or try to come up with solutions. To ask questions to help explore and identify the underlying issues.  In my experience, people tend to get clarity by being able to tell their story, and voice their concerns – emotional as well as practical. And then it always helps to support them to create their own doable plan. Relieve stress by taking action, even if it's just a small step. Sometimes it's a matter of actually getting down to work, but it can often be a shift in perspective (i.e. acceptance of the situation) – to regain the feeling of direction and/or control.
David: What counterintuitive idea would most small business owners do well to adopt?
Bonnie: Sell first, create and develop later. Get out there. Good is good enough – field test and ask for feedback from customers before thinking you know all the answers. Even if you do, you don't.
David: What is the biggest misconception you encounter about business in today's world?
Bonnie: That a fantastic product or phenomenal service will sell itself. Naif.
David: What's the most significant way you enhance the life and work of people around you?
Bonnie: I'm very funny…  Basically I believe that we already have everything we need inside us to be happy and successful in life. It's just a matter of embracing and accessing it. Preferably on a daily basis. I'm in this life for the full monty, the whole shebang. No souls shall be spared. That's just how I ride. And I like to hug.
David: What traits do the most successful people share?
Bonnie: Focus. Vision, combined with the ability to articulate this and engage others. Commitment. Ability to prioritize, endure, learn from mistakes and unachieved goals. Sensitivity, good listening skills. Good people radar and market feelers. Know when to move forward and when to stop to assess. Know when to just stop or change course. Know how to connect. Can form a good team. Sense of humor. A bit of the Sixth Sense. The ability to suspend belief for limited amounts of time.
To find out more about Bonnie Williams and her work, visit http://www.thewholepackage.nl.