How to Succeed in Business: Tips From a Superstar Copywriting Strategist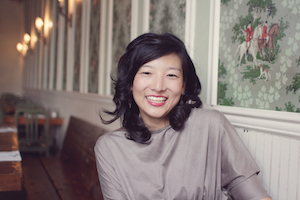 Jean Tang and I both hail from the same alma mater – Cornell. Jean founded MarketSmiths, a copywriting agency, to provide carefully created, custom content for a variety of businesses.
Her perspectives as both a service provider and business owner offer up a unique combo. She understands deeply what a healthy work culture looks like, even for a small business trying to get off the ground.
She's got great stuff in her arsenal, and I'm delighted to introduce you to her.
David: What do you do to help reduce stress for clients and people you work with?
Jean: For my clients, I let them know they don't have to struggle with their copy anymore. I discourage rewriting or revising anything we write, or composing anything specifically for our copy engagement. Instead, I invite them to send along any writing they've already created, and then engage them in a lively, organic conversation, which provides amazing insights into what they do and stand for. I also assure them that we can meet their deadline, and then we deliver.
For my employees, I (try to) institute a no-workaholic rule. I learned about this through you, David, when you blogged about the article you saw featuring the company whose productivity had increased when they began penalizing people for overworking. Coincidentally, one of my staffers had been pulling recent overtime, and asked me how she should deal with the stress. I said, here's our new method. Go home at quitting time. No weekend work. I can't say that we follow this 100%, but things are much better now, and my staff seems happier and are far more productive.
It's also great to just take that leap and bring on more talent: 1099 and W2 alike. It helps everyone out, and makes running a business like throwing a fun, uber-intelligent party.
David: What can external resources bring to a business that internal employees can't…and vice versa?
Jean: I love this question. From a business owner that thought all her resources would be external till the end of time…I received a huge, gratifying lesson when I began hiring internally. There's an astounding sense of ownership connected with having a staff — and it goes both ways. My staffers pull their weight in pure platinum: pitching in with digital strategy, marketing, research, in-house content production, proposal writing, even menial things like buying supplies. They get a lot of responsibility at a young age, and own entire workflows, from the external writers' vetting process to social media marketing to our AdWords campaign.
It's also been remarkable for the kind of investment I want to make in my staff. From finding a geographically convenient office space to designing and commissioning individualized training (LinkedIn, public speaking, etc.), I'm very open to developing my internal people, and wouldn't necessarily make similar decisions for our freelancers — as much as I love them.
With external resources, it's very simple. I have the freedom to pick and choose staffing. I don't have to keep anyone busy. I can put my trust in very specialized people with whom MarketSmiths has a relationship and a history, and still allow them the freedom they want.
David: How do you help businesses without stepping on the toes of their employees? 
Jean: This is a great question. We're here to do our work: part content SWAT team, part coaches. For core marketing copy: positioning, website content, blog posts, white papers, case studies, proposals, business plans, and more, we explore, strategize, and write in the engaging, accessible way that produces real results. But clients' needs will extend beyond our work — and frankly, beyond project budgets. So we prep guidelines. In a nutshell, we lay out templates for future content based on what's on-brand and what's effective. We define the company voice, give the dos and don'ts of content creation (words to use, words to avoid, etc.), and suggest pieces of copy to riff off of and adapt as needed.
Paint an ideal picture of internal employees and outside experts working together to help a business attain maximum success.
Jean: For most projects, we rely on our internal writing staff to interface with clients, explore and create a content strategy, and seamlessly execute. We'll generally tap our extended team of writers and experts as the need arises. For SEO-mined clients, we partner with a fantastic SEO shop that trains our writers and assists with content strategy. For large-scale projects, we'll augment our team with writers that do everything from guide voice, produce content, edit, and project manage. On a symbiotic level, we partner with digital agencies (web/design/creative/branding), providing UX input, messaging platforms, and fresh content.
For our clients, the difference is powerful. We produce nearly all of our content collaboratively, ensuring a high level of quality control and polish, and a variety of voices, format specialties, and viewpoints. With our assistance, clients can seamlessly integrate powerful marketing tools such as SEO and design with their new copy, thereby compounding the impact—and the return. The result is far more effective than a piecemeal, single-writer approach.
David: What are some of your own professional development challenges? How are you working on them?
Jean: They keep shifting, as they ought to! Early on, I struggled to give up doing the core work we offer — copywriting and content strategy — and which I still deeply love. But I did so in order to focus on the business and not get stuck working in it. Now, I'd say my biggest challenge is to turn into the salesperson I have never truly been. To clarify: My networking usually helps me to find needs where they exist. Now the challenge is to expand this "gathering" mentality into that of a true hunter: someone that creates needs out of thin air, and lights them with the urgency of now. Wish me luck!
Jean Tang is the Founder of the copywriting agency, MarketSmiths. Watch excerpts from her excerpts from her TEDx Talk, reach her by phone at 917-957-4850, and sign up here for tips on great writing.